Dr. Sotiria Palioura MD, MSc, PhD
Ophthalmic Surgeon
Cornea & Ocular Surface Disease Specialist
Voluntary Assistant Professor of Ophthalmology, Bascom Palmer Eye Institute (USA)
Adjunct Assistant Professor of Ophthalmology, Yale School of Medicine (USA)
Visiting Professor of Ophthalmology, University of Buenos Aires (Argentina)
Diplomate of the American & European Boards of Ophthalmology
Dr. Sotiria Palioura is a Surgeon Ophthalmologist trained exclusively in the United States οf America (1999 – 2016). She specializes in cataract surgery, laser refractive surgery, cornea transplantation, management of keratoconus, dry eye disease, ocular surface tumors and autoimmune/inflammatory conditions of the ocular surface.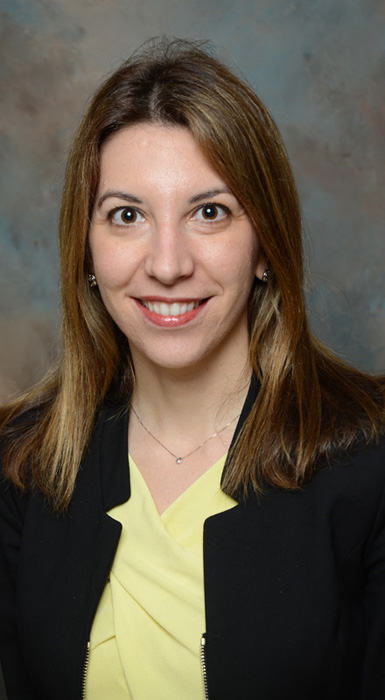 Dr. Sotiria Palioura grew up in Lamia, Fthiotis in central Greece. Following her high school graduation (GPA 20.0 / 20.0), she enrolled at YALE University in the United States of America for the 4 mandatory years of pre-medical training (as per the education system in the USA). She graduated in 2003 with Honors (Magna Cum Laude), a combined Bachelor's and a Master's degree in Molecular Biophysics & Biochemistry and highest distinction in the major. Thus, she became a member of the ΦΒΚ Honor Society of excellent college graduates in the USA
She was admitted to the MD/PhD Program at YALE School of Medicine with full scholarship, and she graduated with Highest Honors among the 5 best graduates of her class. Her PhD thesis at the laboratories of Drs. Dieter Söll (member of the American Academy of Sciences) and Thomas Steitz (Nobel Laureate 2009) was awarded the MD/PhD Thesis Prize and the Farr Scholar Excellence in Research Award by the YALE School of Medicine. Dr. Palioura's research was also awarded the Robert Macnab Memorial Prize by the Department of Molecular Biophysics & Biochemistry at the YALE Graduate School of Arts & Sciences. Dr. Palioura also received the Excellence in Teaching Award for her performance as a teaching assistant for the graduate course Medical Impact of Basic Science. Through a very competitive selection process, she was invited to participate at the 57th Annual Meeting of Nobel Laureates in Physiology or Medicine at Lindau, Germany in 2007.
Dr. Palioura completed her internship at the MEMORIAL Sloan-Kettering Cancer Center in New York City at the end of which she received a Performance Improvement Award in Recognition to Commitment for Improving Patient Care. She also completed a research study with the ophthalmic oncologist Dr. David Abramson, which was published and presented at the bi-annual meeting of the International Society of Ocular Oncology in 2011.
She trained in Ophthalmology at the HARVARD Department of Ophthalmology (Massachusetts Eye and Ear Infirmary) under the guidance of the internationally-renowned cornea surgeons Drs. C. Dohlman, J. Chodosh, and K. Colby, cataract surgeons Drs. R. Pineda, and S. Chen, retina specialists Drs. E. Gragoudas, D. Eliott, and J. Miller, glaucoma specialists Drs. T. Chen, L. Pasquale, oculoplastic surgeons Drs. S. Freitag, A. Fay, and neuro-ophthalmologists S. Lessell, J. Rizzo. At the end of her training, she was selected by the Association of University Professors in Ophthalmology to participate at the Heed Foundation Annual Meeting for charismatic young surgeon ophthalmologists. Dr. Palioura successfully passed the Ophthalmology Board examinations both in the United States and in Europe. She is, thus, certified and fellow both of the American Board of Ophthalmology and of the European Board of Ophthalmology.
Dr. Palioura completed her sub-specialty training in Cornea, Ocular Surface & Refractive Surgery at the BASCOM PALMER Eye Institute (BPEI), which ranks #1 in Ophthalmology in the United States for the last 18 years (2002 – 2020). Among all cornea fellows in training in the USA in 2014 she was selected to receive the highly-prestigious "Claes Dohlman" scholarship. Her mentors at BPEI were Drs. E. Alfonso (cornea infections), C. Karp (ocular surface tumours), G. Amescua (cornea transplants, ocular surface disease), S. Yoo (keratoconus, refractive surgery), W. Culbertson (cataract surgery, cornea transplants), V. Perez (autoimmune/inflammatory conditions of the ocular surface), K. Donaldson (cornea transplants) and T. O'Brien (femtosecond laser cataract surgery).
In 2015, she received the title of Voluntary Assistant Professor of Ophthalmology at the BASCOM PALMER Eye Institute, University of Miami Miller School of Medicine, which she holds until now. Up to her return to Greece in early 2017, Dr Palioura took care of patients with conjunctival tumors and ocular surface lesions under the guidance of the international renowned ocular surface oncologist Dr. Carol Karp at the BASCOM PALMER Eye Institute.
In 2019, she also joined the Department of Ophthalmology at the YALE School of Medicine as Adjunct Professor of Ophthalmology. And in 2020, she received the title of Visiting Professor of Ophthalmology at the University of Buenos Aires, Argentina.
Since 2017, Dr. Palioura is primarily based in Athens, where she examines and operates on the majority of her patients. She is an attending surgeon at the hospitals HYGEIA, MITERA and MEDITERRANEO and at the ambulatory ophthalmic surgery clinics OMMA and YPAPANTI.
She specializes in:
Cataract surgery
Laser refractive surgery
Cornea transplantation (Penetrating Keratoplasty, Deep Anterior Lamellar Keratoplasty, Endothelial Keratoplasty/ultra-thin DSAEK/DMEK)
Cornea/collagen crosslinking
Management of keratoconus, corneal ectasias and corneal dystrophies
Pterygium surgery
Conjunctival tumors and benign conjunctival lesions (ocular surface squamous neoplasia/conjunctival squamous cell carcinoma, conjunctival melanoma, conjunctival lymphoma, primary acquired melanosis, conjunctival nevus, conjunctival papilloma)
Limbal stem cell transplantation for the management of limbal stem cell deficiency
Dry Eye Disease
Ocular rosacea in children (blepharokeratoconjunctivitis) and adults (blepharitis, meibomian gland dysfunction)
Autoimmune and inflammatory conditions of the ocular surface (ocular mucous membrane pemphigoid, Sjogren syndrome, peripheral ulcerative keratitis, episcleritis, scleritis, graft-versus-host disease, Stevens-Johnson syndrome)
Allergic conjunctivitis in children (vernal keratoconjunctivitis) and adults (atopic keratoconjunctivitis)
Herpetic keratitis and herpes zoster ophthalmicus
Corneal ulcers and infections from bacteria, fungi, viruses and parasites (e.g. acanthamoeba, microsporidia)
Recurrent erosion syndrome and epithelial basement membrane dystrophy
Moreover, Dr. Palioura continues to teach medical students, residents and fellows in the United States and in Greece. Since 2017, four BASCOM PALMER ophthalmology residents and one YALE medical student have completed their international rotations with her in Athens. Dr. Palioura volunteers on a weekly basis at Doctors of the World (Medecins du Monde – Greece) both in Athens and in rural Greece (2017 – present).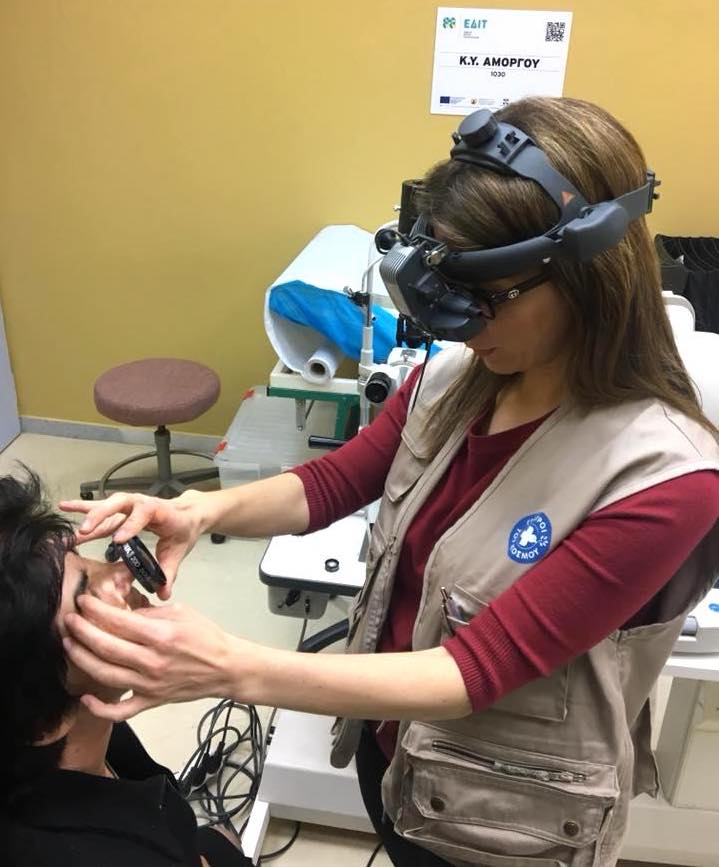 Dr. Palioura is a recipient of the "Spyros Georgaras" fellowship from the Hellenic Society of Intraocular Implant and Refractive Surgery, which allowed her to train on the procurement, evaluation and processing of cornea transplants at the Florida Lions Eye Bank. She is among the very few ophthalmologists in the United States who hold the title of Certified Eye Bank Technician (CEBT) from the Eye Bank Association of America.
In 2019, Dr. Palioura received a Research Scholar Award from the HARVARD T.H.Chan School of Public Health for her excellent performance at the Principles and Practice of Clinical Research training program. Her thesis on the use of autologous serum tears for severe dry eye disease patients received the first prize.
Dr. Palioura is the author of >50 scientific publications in first-tier journals (Science, Archives in Ophthalmology, Cornea, JAMA Ophthalmology, Nature, American Journal of Ophthalmology, Expert Review in Ophthalmology, Ocular Surface, International Ophthalmology Clinics) and >10 chapters in ophthalmology textbooks (Expert Techniques in Ophthalmic Surgery, Cornea, Keratoprostheses and Artificial Corneas, Dry Eye Disease: An Up-to-Date Practical Guide, Pterygium Surgery). She has also given more than 60 invited talks, 40 oral presentations and 40 poster presentations in ophthalmology conferences in Greece, the United States and around the world. Dr. Palioura is a member of the advisory board of the European (EU Commission) research program Horizon 2020, project SHAPES (Smart & Healthy Ageing through People Engaging in Supportive Systems).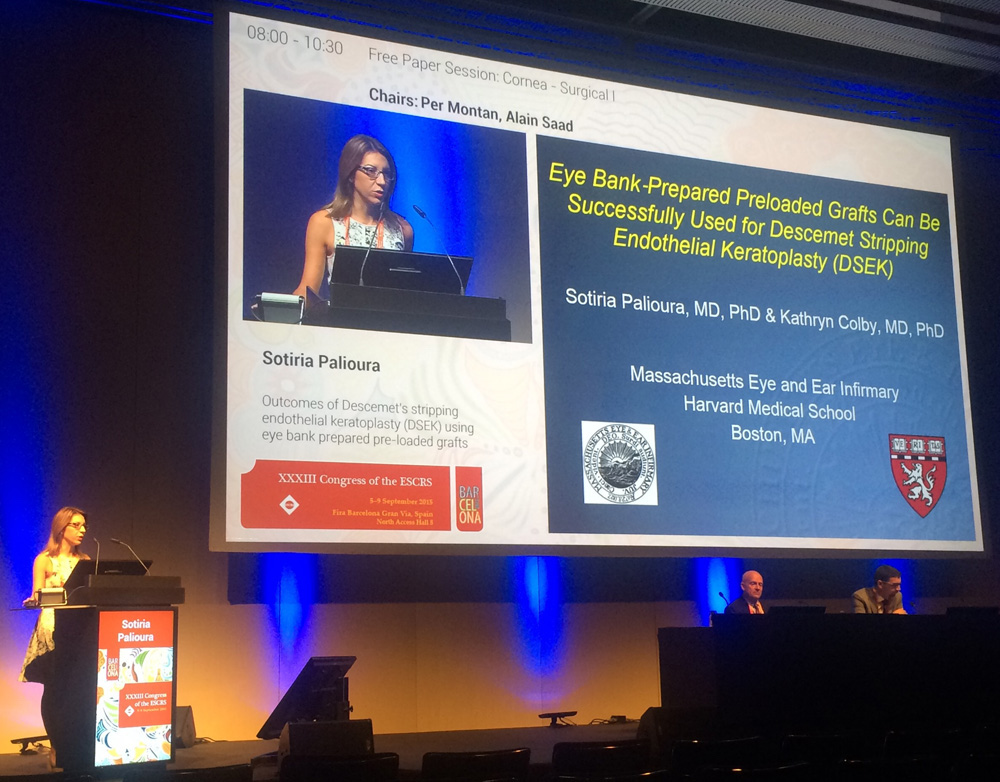 Dr. Palioura has received awards from the American Society of Cataract & Refractive Surgery, the Association for Research in Vision and Ophthalmology, the Harvard Department of Ophthalmology Alumni Association, the Harvard Medical School Cornea Center of Excellence, the Claes Dohlman Society, the Eye Bank Association of America, and the New England Ophthalmological Society.
She is a member of:
the American Academy of Ophthalmology (ΑΑΟ)
the American Society of Cataract and Refractive Surgery (ASCRS)
the Cornea Society
the Association for Research in Vision and Ophthalmology (ARVO)
the American Medical Association (ΑΜΑ)
the American College of Physicians and Surgeons (ΑCPS)
the American Physician Scientists Association (APSA)
the Florida Medical Association (FMA)
the European Society of Cataract and Refractive Surgery (ESCRS)
the European Society of Cornea Specialists (EuCornea)
the Hellenic Society of Intraocular Implant and Refractive Surgery
the Hellenic Ophthalmological Society
the Medical Society of Athens, Greece
You may find Dr. Palioura's full CV and publications list here (Greek) and here (English).